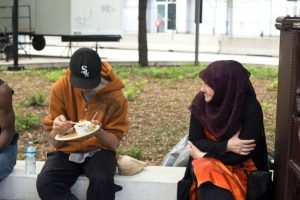 Academic Background:
October 2017 – Canadian Armed Force's first female Muslim chaplain.
April 2016 – Present Doctor of Ministry (Muslim Chaplaincy) 2016 Cohort, University of Toronto (Toronto School of Theology, Emmanuel College).
May 2011 – 2014 Masters of Counselling Psychology, Athabasca University, Graduate Program in Applied Psychology. Awarded AU Graduate Level Student Bursary, 2013/14; Master's Level Student Bursary, 2012/13; Emil Fredericks Endowment Graduate Student Scholarship 2012.
Sept. 1988 – June 1993 M.A., McGill University, Institute of Islamic Studies. Dean's Honour List.
Sept. 1982 – April 1985 B.A. (Honours), Comparative Religion, McGill University, Department of
Religious Studies, First Class Honours, Faculty Scholar.
OTHER ASSOCIATIONS, ACTIVITIES, & TRAINING
Registered Psychotherapist (RP, Qualifying), College of Registered Psychotherapists of Ontario (CRPO). (Oct. 10, 2016—Present)
Canadian Certified Counsellor (CCC) (October 2014—Present).
Canadian Counselling and Psychotherapy Association (CCPA) Professional Member (May 2014—Present).
Cornwall Interfaith Partnership (CIP), Chairperson since Aug. 2010. (August 2010—Present).
Cordova Spiritual Education Centre (2013—present) Advisory Board Member.
Spiritual Care Volunteer, Cornwall Community Hospital (March 2011—August 2016).
Sexual Assault Support Services (SASS) for Women. Volunteer counsellor (March 2015—June 2016).
D.&G. Social Development Council's Poverty Working Group (CIP representative) (Sept. 2011—Sept. 2012).
Applied Suicide Intervention Skills Training (ASIST) (Nov. 2014).
CCPA training, Trauma, PTSD & Healing in Military and Veteran Populations (Sept. 2016), Dr. T.Black.
Mental Health Academy (2014—present). Certificates CBT; Helping Cope with Grief and Loss; Teaching Conflict Resolution Skills, Psychological First Aid, Helping Clients with Relationship Breakdowns.
Online Training Initiative to Address Human Trafficking (Dec. 9, 2015).