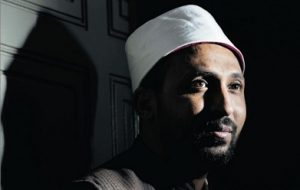 Photo Taken by The Ottawa Citizen
Profile of Imam Samy Metwally
An Egyptian Islamic scholar with a degree in Christian-Muslim relations.
Graduated from Egypt's renowned Al-Azhar University in 1998 and then worked for a while as a religious translator;
Worked for the website IslamOnline, as a senior sharia researcher, answering religious questions and giving fatwas – legal rulings – on a variety of issues to an online audience largely made up of North American Muslims;
In 2009, became a Fulbright student at the Hartford Seminary, a U.S. institution well-known for its multi-faith programs. A master's student in Islamic Studies and Christian-Muslim Relations, he graduated in September 2011;
In between, studied American culture at Arizona State University, and was imam in the city of Berlin, Connecticut;
Please Note:Imam Samy Metwally will be available in the masjid/mosque after each salat, from Fajr to Ishaa, to answer questions if he has no prior commitments. However, if you would like to make an appointment with Imam Samy, regarding a private/personal matter, he is available every Tuesday from 2:30 PM to 6:00 PM.
Please call 613-722-8763 to book your appointment.